Signs & Awning Services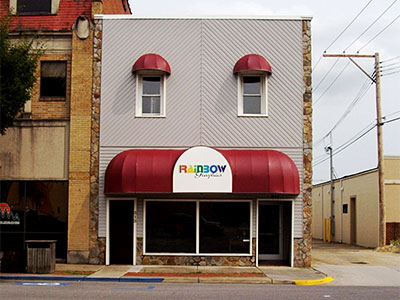 If you are looking for a functional, aesthetically appealing, and resilient shade structure for your property, you should consider getting an awning installed. These features are suitable for residential as well as commercial properties and are available in a wide variety of styles, shapes, sizes, fabrics, and more.

Awnings need to be designed with attention to detail, and that's something we never compromise on. We offer the best awning design and installation services and make sure the features we install are as per your expectations. The use of high-grade materials and the latest installation methods help to ensure that the structures are stable and long-lasting. The different types of that we offer include:


Residential Awnings
We provide high-quality residential awnings for various areas of your property, including patios, decks, poolscapes, balconies, or outside large glass windows, etc. When we handle this job for you, we make sure that the awning is of the perfect size, style, and that it suits the architectural elements of your home. Our team helps with every aspect of the project, including assisting you with design choices and handling the installation. Whether you want a single or multiple awnings for various areas of your property, we can provide you with the kind of solutions you need. Read More About Residential Awnings »


Commercial Awnings
Commercial properties need to be designed and planned perfectly, and this includes the entryways and exterior areas, as well. Many businesses require some shade structure leading up to their front entrance, and awnings are an excellent choice. We provide high-quality commercial awning design and installation services to businesses from various industries. Our company understands that commercial awnings are different from residential ones. Business owners want to make sure that the awnings, like every other structure on their property, reflect their brand image, which is why every awning is custom built. Read More About Commercial Awnings »


Custom Build
Every property is different, and every client will also have precise requirements when it comes to awning installations. Our company understands these needs and offers high-quality custom build of different types of commercial and residential awnings. These shade structures are incredibly resilient and provide the outdoor spaces of your property a certain amount of protection from the elements. We will make sure that the customized feature we design and build for you is perfect for the available space. Read More About Custom Build »


Retractable Awnings
If you are looking for a versatile feature that will help you increase the usability of your yard, and add to its beauty and value, you should consider getting retractable awnings installed. We offer custom awning installations and design the features as per your needs. We use the best mechanisms and fabrics so that your retractable awning functions perfectly and lasts for many years without any trouble. You will also find that our solutions are cost-effective and we go out of the way to ensure that you are 100% satisfied with the retractable awning design and installation services we offer. Read More About Retractable Awnings »


Commercial Signs
Signage is a critical aspect of every business. The right kind of exterior signs can increase footfalls, which in turn helps to improve profitability. We provide high-quality; commercial sign services, and also make sure that our clients get customized solutions. Whether you need a straightforward commercial sign for a small standalone store or want signage for a shopping mall, we can help. We work closely with you and make sure that the commercial signs we design for you are perfect in style and form. Suitable quality materials and excellent installation techniques help to ensure that your business signs are resilient and durable. Read More About Commercial Signs »


Electric Signs
Today, many businesses operate even after dark. It means that the store or business location needs to be visible even at night. In addition to window displays and other types of lighting, it is necessary to have the right kind of illuminated signage. We design and install electric signs that reflect your branding. We can develop signs of any shape and size and can include logos as well as names and taglines, etc., in them. Our company uses high-quality materials and the latest installation techniques in these jobs so that you get the type of signage that will create an impact and help to attract customers. Read More About Electric Signs »

For any more information about our residential and commercial awnings and signage solutions, please contact The Awning and Sign Company at 800-446-3461. Our team is here to provide you with all the details you need. You can also send us your queries through this Online Form, and one of our experts will call you as soon as possible to discuss your project details.